Health
The 25 Best Affordable Watches You Can Find on Amazon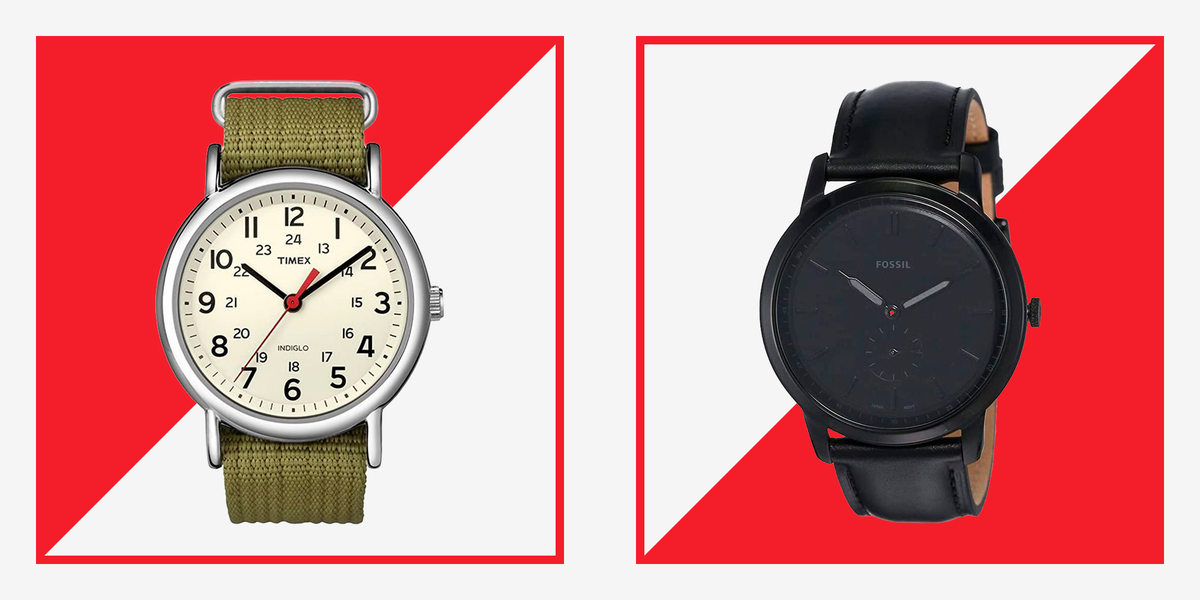 When you're budgeting for a new timepiece from the best watch brands, even those on the more affordable end of the spectrum can set you back a couple hundred dollars. But a watch doesn't always have to be an investment piece; in fact, some of the best cheap watches for men are super stylish and built to last. Whether you're looking for a sleek, modern timepiece for more formal occasions, or just want to upgrade your everyday leather wristwatch, there's no need to shell out your entire paycheck. We can do you one better: We scoured Amazon for the best inexpensive watches on the market, including the best watches from Timex, Seiko, and more of our favorites, all for under $100.
Between waterproof options you can take with you to the beach, built-in chronograph capabilities, and scratch-resistant crystal faces, you won't have to give up your favorite features, either. The secret lies in picking the right brands. We love the versatility of Timex, the Scandi minimalism of Danish label Skagen, and the innovative simplicity of Casio—though those are only a few of the best affordable watch brands to look out for. Keep reading to shop the rest; these 25 picks look way more expensive than they actually are.
Timex Fairfield 41mm Watch
With rose gold markers specifically picked to match the smooth tan leather band, Timex's cream-colored watch is the perfect everyday piece. Not only will it go with just about everything in your wardrobe, but it can definitely stand up to some wear and tear: The mineral glass crystal is scratch-resistant. 
Fizili Ultra-Thin Wrist Watch
"This is a beautiful watch, very pleasing on the eyes, [and] the thinnest watch I've ever owned," writes one of the 5,700+ customers who gave this sleek piece a glowing 5-star review. "It tucks easily under my sleeve." Read: It's a great buy if all you want is something unfussy that won't make you feel like you're wearing a bulky accessory. 
Braun Classic Mesh Watch
Featuring a Japanese quartz three-hand movement, a 40mm solid stainless steel case, and a comfortable mesh strap, Braun's Classic design is timeless. It can even be worn for short bouts of swimming: It's waterproof up to 165 feet deep. 
Komono Winston Regal Watch
Luxe touches—like the mahogany-hued leather wristband and rose gold dial—make Komono's Japanese quartz-fueled option a great statement piece. Because it's shock-resistant, it's designed to be durable—but just in case, you can tack on a four-year protection plan to your order for an extra $5. 
Timex Unisex Weekender Watch
Bring a pop of color to your wrist game with this olive green watch. The nylon strap is adjustable and designed to fit up to an eight-inch wrist circumference. That's not the only thoughtful feature: The watch also includes 24-hour military time, should you ever need the conversion. 
Swatch Classic Quartz Silicone Strap
amazon.com
You can't go wrong with a basic Swatch. The hidden perks: The brand offers free battery exchanges at all its retail locations, and every watch comes with a two-year international warranty. It even ships in recycled packaging, as the cherry on top. 
Seiko Stainless Steel Watch
Go battery-free with an automatic mechanical watch. Seiko's customer-favorite version is made using scratch-resistant Hardlex crystal and a blue fabric strap that'll dress up any look (yes, even your faded wash tee). 
Kenneth Cole New York Classic Diamond Dial Watch
Wear it with your favorite structured suit or with a breezy button down for a casual dinner; either way, Kenneth Cole's stainless steel watch is a versatile find you'll get tons of mileage out of. The push-button deployment clasp makes it a cinch to take on and off—no more fumbling with tricky closures. 
Fossil the Minimalist Stainless Steel Watch
amazon.com
Struggling with your gift list? Fossil's matte black watch makes a great present: Take it to their nearest store for complementary engraving, for a personal touch anyone would love to receive for a birthday or holiday.  
Skagen Aaren Quartz Watch
If you're not afraid of a little color, might we suggest this tomato red watch? It's also available in 14 other shades, like lime green and bright blue, and has a surprisingly sturdy silicone strap. Inspired by Copenhagen's vividly colored townhouses, this piece is a great way to liven up any outfit. 
Timex Easy Reader 38mm Leather Strap Watch
Like all the best Timex watches, this leather strap watch is simple and streamlined. It has a gold-tone 38 mm brass case with mineral glass crystal, which, set against the darker band, gives it some cool contrast. No wonder it has over 4,300 5-star reviews: "I have now had this watch over two years," writes one customer. "I love the watch—for the price, it is a triumph! It is unobtrusive-looking and, although casual, blends okay with a suit."  
Casio Classic Quartz Watch
Definitely the cheapest Amazon watch on our list, Casio's black resin timepiece looks anything but. It boasts a two-year battery life for low-maintenance upkeep; plus, despite its smaller size, it's designed with large numbers so you won't have to squint to see if you're making it to your meeting on time. 
MVMT Classic Leather Band Watch
This L.A-designed piece is as laid back as its hometown: Featuring a no-frills 45mm dial and a caramel-colored leather strap, it's the perfect purchase if you're on the hunt for a functional accessory instead of a flashy statement item. The strap is interchangeable with other MVMT bands, and it has a two-year guarantee. 
Brigada Blue Strap Wrist Watch
amazon.com
Swear by minimalist style? Brigada's clean design is offset by a pared-back navy blue strap that'll serve as a polished finishing touch for your outfit. The tempered glass face prevents scuffing and ensures your watch will still look new months (or years) down the line. 
Stauer Metropolitan Wrist Watch
This elegant piece looks like it was dug up at some fancy antique market—when in reality, it's under $30 and eligible for Prime shipping. Inspired by a rare 1929 Swiss classic found at auction, this Stauer watch has a crocodile leather strap and gold case that will patina over time to add to its charm.
Skagen Ancher Quartz Watch
On the other end of the spectrum, Skagen's black and silver watch is the epitome of minimalist Scandinavian design. The soft leather band is crafted for comfort, while a date window at the 6 o'clock mark means you won't have to whip out your phone every time you need to check your calendar. 
IBSO Ultra-Thin Rectangle Dial Watch
"If you're looking for a thin and lightweight watch for very little money, I don't think this one can be beat," writes one reviewer, who notes they've had the watch for two months without any signs of it slowing down. The rectangular face is a little unusual, but if you like slick lines and a contemporary feel, it could well be your new go-to accessory.  
Casio Duro Analog Watch
Thanks to its black resin band and stainless steel case, Casio's analog watch might not look like a breezy beach accessory, but it has a secret skill: This durable watch is water-resistant up to 660 feet deep, which makes it more waterproof than most watches. 
Timex Modern Easy Reader Watch
With thinner, more modern lettering than other Timex watches, this watch goes with everything and is easy to read. It's also water-resistant up to 30 meters, relatively scratch-resistant, and has an Indiglo background so you can tell time in the dark. 
Nixon Time Teller Watch
From its clean, uncluttered design to its 20mm polyurethane band designed for comfort (it won't chafe against your skin), this bulky watch is super stylish. According to reviewers, it's also mercifully quiet: "For those of my fellow automatic wearers who worry about the loud tick of a quartz second hand—this second hand makes almost no noise," writes one fan who liked Nixon's design so much he bought it in multiple colors.  
Fossil Stainless Chronograph Watch
It's on the higher end of our price spectrum, but Fossil's stainless steel watch is worth the (relative) splurge: It comes with chronograph functionality, meaning you can use it as an accurate stopwatch as well as a regular timepiece. 
Lacoste Quartz Watch with Rubber Strap
If you're looking for a cheap watch you won't have to take off to work out, go with this Lacoste pick. It's a simple option with a rubber band that's easy to clean and sweat-resistant. Don't worry about scratching the face, either: It's made from a durable mineral crystal and can easily withstand a few scuffs. 
Skagen Signature Stainless Steel and Leather Watch
The watch equivalent of a Hans Wegner chair, this minimalist-meets-mid-century design is another great Scandinavian style option from Skagen. It comes with a 40mm stainless steel case, three-hand analog display, and a chic leather band. The tiny blue and orange accents make it stand out just enough.  
Peugeot Vintage Rectangular Wrist Watch
Between the antique brass face and the textured black leather strap, this rectangular wristwatch is ideal for vintage lovers. (It also happens to be a way more affordable dupe of Cartier's Tank watch.) Peugeot is offering free lifetime battery replacement with each purchase, so you'll never have to worry about upkeep. 
Timex Easy Reader 35mm Silver-Tone Expansion Band Watch
This smaller watch has all the bells and whistles: a polished silver hue for everyday wear, a date window, a light-up dial, water resistance (up to 99 feet), and an expansion band—the latter of which makes it super adjustable, so you can keep it around even if your wrist size changes. 
This content is created and maintained by a third party, and imported onto this page to help users provide their email addresses. You may be able to find more information about this and similar content at piano.io
Source link