Health
These 9 Low-Carb Protein Bars Will Make Going Keto Easier Than Ever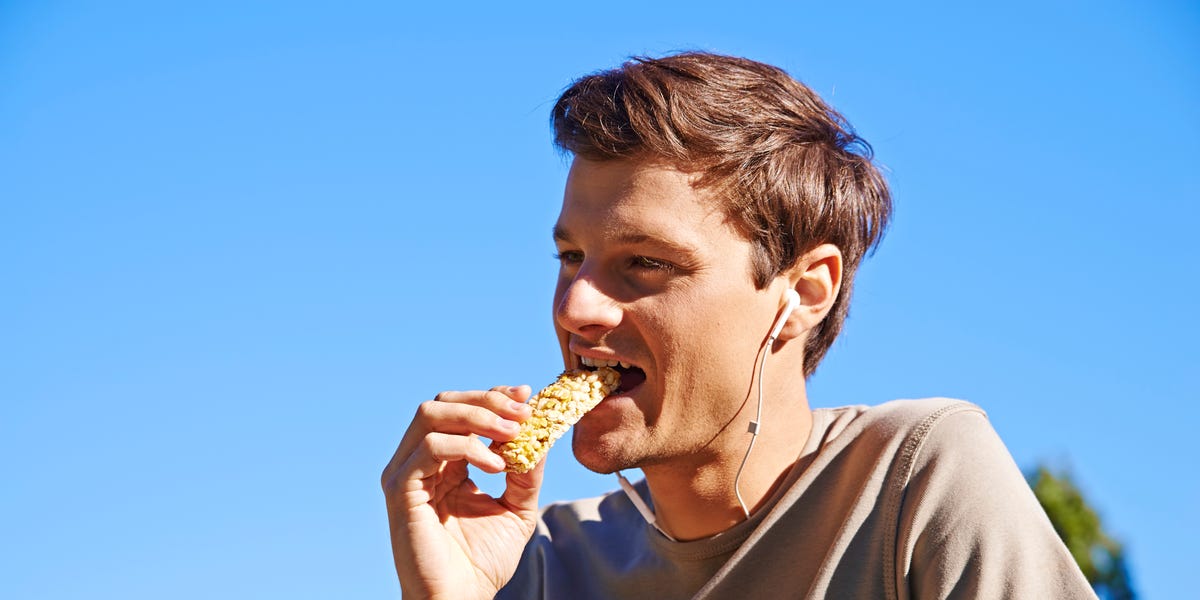 Low-carb and ketogenic—keto— diets are extremely popular for those who want to lose weight. They're effective, too, in the short term, thanks to cutting out (or cutting back) an entire food group.
While low-carb and keto are technically different diets—the keto was originally designed to help those with epilepsy—both reduce or eliminate carbohydrates. A low-carb diet limits the daily amount of carbs a person consumes, focusing on high-protein intake.
But unlike keto, more on that below, there's no clear definition of what constitutes a low-carb diet. Technically if carbohydrates constitute 45 percent or less of your total calories, your diet could be considered low-carb, says Pamela Nisevich Bede, R.D., author of Sweat. Eat. Repeat. Bede says that often, people who start on a low-carb diet typically consume similar numbers to keto, with around 10 to 20 percent of their total calories coming from carbohydrates.
Which brings us to…
The restrictive keto diet. The goal is for the body to go into ketosis and burn fat instead of carbs for energy. It focuses on high fat, with just 20 percent of calories coming from protein and 10 percent coming from carbs. Goodbye, breakfast bagels.
Dezi Abeytas, R.D.N., a Men's Health nutrition advisor, says certain protein bars are a great addition to a keto or low-carb diet. "Bars offer a great deal of sustainability," he says. "When we're super busy and can't make a meal or we're on the go and only have snack in our bag, they're a really great supplement to a balanced diet. And some are whole-foods based, meaning they're close to their natural source of food."
For low-carb and keto, you'll want at least 10 grams of protein. Abeytas says some people may even want to look for 15 to 20 grams of protein, depending on what their goals are, whether it's weight loss, building muscle, or training for a marathon. But those looking for low carbs in their bars should read the food labels closely. "If I'm looking for a keto bar, I'm looking for a variant in which most of the calories are going to come from fat," Bede tells Men's Health.
Protein bars are perfect for a post-workout snack, road trips, or to keep your stomach from grumbling while you're working. But different bars serve different purposes, so you need to know what to look for. Abeytas and Bede agree that the right bar for you might not be the right bar for your CrossFit buddy.
"Maybe you're looking for dessert, but you want something a little bit healthier," Bede says. "Or maybe you just finished a workout and you need 15 to 30 grams of protein. Or maybe it's a meal replacement."
If you're a keto dieter, Bede and Abeytas say to choose bars with fewer than five net carbs: "There are carbohydrates and then there are net carbohydrates," Bede says. "There's no regulation or definition around it, but most of us agree a net carb is when you consider total carbs, and you take out fiber, you take out sugar alcohols, and you subtract out allulose as well."
Another factor to consider: taste.
"Does it taste good? Because sometimes you run into a bar that's just nasty," Abeytas says. Although the label may say it's cookie dough-flavored, it might just taste like chalk. Be sure to test out different brands to see which ones you like the best.
Below are nine protein bar picks for low-carb or keto diets.
1
Perfect Keto Bars – The Cleanest Low Carb Keto Snacks with Collagen and MCT. No Sugar Added, Keto Diet Friendly – 3g Net Carbs, 19g Fat, 11g Protein – Keto Diet Food Dessert (Cinnamon Roll, 12 Bars)
Perfect Keto
amazon.com
$39.99
Perfect Keto boasts 11 grams of protein and only 3 grams of net carbs. With various dessert flavors including birthday cake, lemon poppyseed, and salted caramel, this bar can help curb your late-night cravings. Plus, it's easy to figure out what you're eating. "It has a relatively short list of ingredients, which is important," Abeytas says.
2
Zone Perfect Protein Bars, Nutrition Bars With Vitamins & Minerals, Chocolate Mint, 1.76 Oz (Pack of 20)
Zone Perfect
amazon.com
$19.96
Bede helped to develop this bar. "I feel good about the amount of sugar alcohols we didn't put in there," Bede says. Sugar alcohols can contribute to the total carbohydrates in a bar. The Zone Perfect bars range from 10 to 15 grams of protein and 6 grams of fat. It has a number of flavors including strawberry yogurt, fudge graham, and chocolate almond raisin.
3
Julian Bakery InstaKetones Protein Bar | Orange Burst | Caffeine-Free | 11.7g GoBHB Per Protein Bar | Exogenous Ketones | 4 Net Carbs | 12 Bars
Julian Bakery
amazon.com
$34.99
This InstaKetones bar sports has just 4 net carbs and zero grams of sugar. With 15 grams of protein, the bar is a decent option for those following the keto diet.
4
IQBAR Brain and Body Keto Protein Bars – Wild Blueberry Keto Bars – 12-Count Energy Bars – Low Carb Protein Bars – High Fiber Vegan Bars and Low Sugar Meal Replacement Bars – Vegan Snacks
IQ Bar's plant-based bars are packed with 12 grams of protein and only 3 grams of net carbs. It also explicitly states there are no sugar alcohols, an ingredient that can raise the net carb amount. The vegan snacks come in various flavors including lemon blueberry, matcha chai, and banana nut. 
5
:ratio KETO friendly Lemon Almond Crunchy Bar, Gluten Free, 12 ct Box
Crunchy, not carby. :ratio's keto friendly bar has 17 grams of fat, 12 grams of protein, and only 2 grams of net carbs. This bar comes in lemon almond or toasted almond. Load up with 12 bars per pack. 
6
Atlas Protein Bar, Meal Replacement, Keto-Friendly Snack, Grass-Fed Whey, Organic Ashwagandha, Low Sugar, Low Carb, Gluten Free, 10 pack, Peanut Butter Raspberry
Atlas Protein Bar
amazon.com
$24.95
This protein bar has only 4 net carbs and 1 gram of sugar. Abeytas says it's perfect for those with a sweet tooth. "They kind of taste like cookie dough," he says.
7
Built Bar 18 Pack Protein and Energy Bars – 100% Real Chocolate – High In Whey Protein And Fiber – Gluten Free, Natural Flavoring, No Preservatives (Coconut)
Built Brands
amazon.com
$38.70
Built bars claim to differ from the gritty, artificial taste you may associate with protein bars. Each chocolate flavor has 4 net carbs and roughly 18 grams of protein. For low-carb dieters who want "zero guilt" protein, look no further.
8
No Cow Protein Bars, Peanut Butter Lovers Pack, 20g Plant Based Vegan Protein, Keto Friendly, Low Sugar, Low Carb, Low Calorie, Gluten Free, Naturally Sweetened, Dairy Free, Non GMO, Kosher, 12 Pack
This dairy-free protein bar has 21 grams of plant protein and only 4 net carbs. After an intense workout, fuel up with No Cow's chunky peanut butter, mint cacao chip, or other chocolate flavors.
9
BHU Keto Bars – 2g Net Carb, Gluten Free Refrigerated Snack Made with Organic, Clean Ingredients – 8 pack (Chocolate Chip Cookie Dough)
Bhu Fit
amazon.com
$23.99
This plant-based bar wants to give you a vegan version of chocolate chip cookie dough (in protein-bar form). Bhu Keto bars have 11 grams of protein and 2 net carbs. Like real cookie dough, you'll have to stick these in the fridge.
This content is created and maintained by a third party, and imported onto this page to help users provide their email addresses. You may be able to find more information about this and similar content at piano.io
Source link