Movies
The Best Crime Shows on Netflix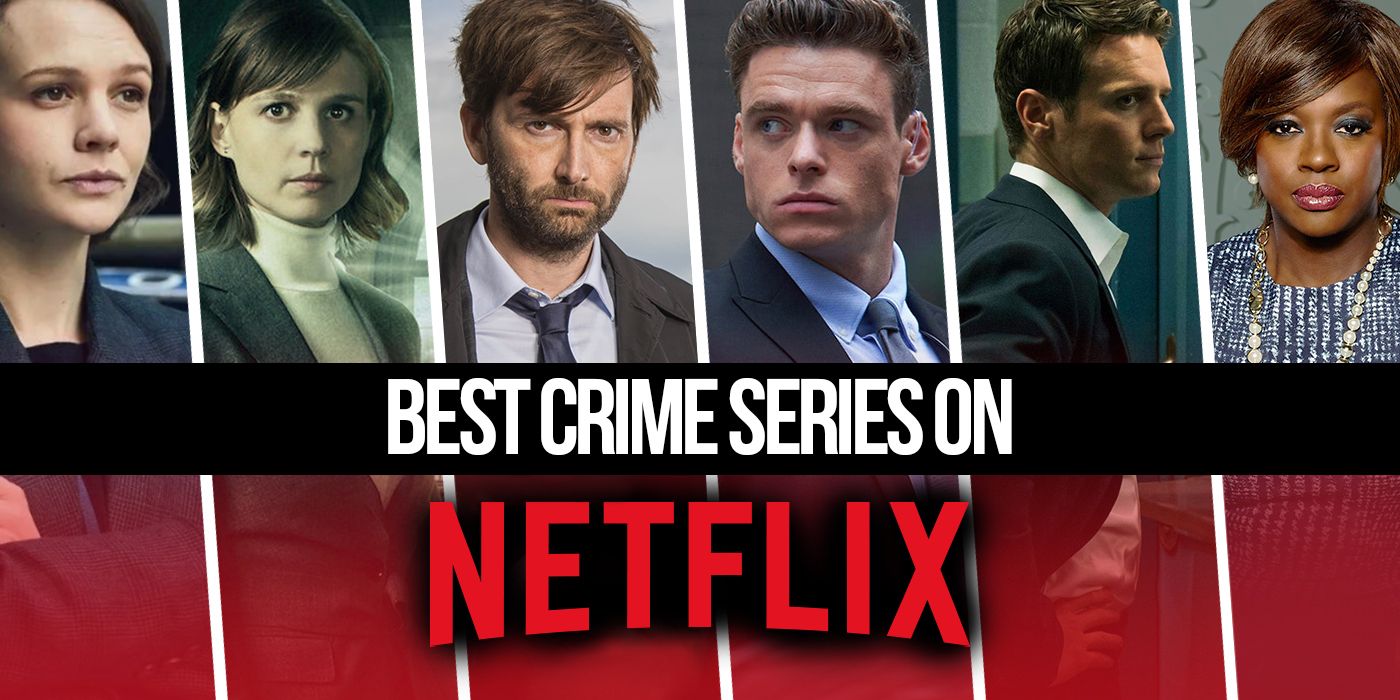 Are you finding yourself in the mood for murder, most foul? Well, we have you covered with our list of the Best Crime Series on Netflix. From docuseries like The Keepers to Netflix originals like Mindhunter and Bloodline, as well as British series like Bodyguard, there should be something to tempt you below.
Like with our Best TV Dramas on Netflix, we have even more lists of TV subgenres on the streaming giant to share, including the Best Sci-Fi and Fantasy and Best TV Comedies, and more. So if you don't see your favorites here, keep checking!
This list will continue to grow, but for now, check out our list of crime-specific recommendations below, and let us know some of your other favorites in the comments.
Editor's Note: This piece was last updated on January 28 to add The Sinner, Ozark, and The Blacklist.
RELATED: The Best True Crime Shows on Netflix Right Now
The Sinner
Created by: Derek Simonds
Cast: Bill Pullman, Jessica Hecht, Jessica Biel, Carrie Coon, Elisha Henig, Matt Bomer, Alice Kremelberg, Frances Fisher
Based on Petra Hammesfahr's 1999 novel of the same name, The Sinner is an anthology mystery series that has received widespread acclaim over the course of its four seasons. The show follows the cases of Detective Harry Ambrose (Bill Pullman), a police officer who finds himself investigating cases that involve seemingly unlikely criminals and buried motivations. It's a dark and gritty series that first aired on the USA Network, with three seasons on Netflix. The fourth and final season of the show aired on the USA Network from October 13, 2021, to December 1, 2021. Each season consists of eight episodes exploring a single, complex crime, with a cast of celebrated actors portraying the major players in each case. The Sinner is by far one of the best shows on Netflix and certainly worth checking out for crime drama fans. – Remus Noronha
Ozark
Created by: Bill Dubuque and Mark Williams
Cast: Jason Bateman, Laura Linney, Sofia Hublitz, Skylar Gaertner, Julia Garner
One of Netflix's most successful crime shows, Ozark stars Jason Bateman and Laura Linney as a married couple who get involved in the dangerous business of money laundering. After a deal with a Mexican drug cartel goes south, financial advisor Marty Byrde (Jason Bateman) offers to set up a money laundering operation in the Lake of the Ozarks region in central Missouri. He relocates there with his wife Wendy (Laura Linney) and their two kids. But soon, Marty and Wendy find themselves drawn into the affairs of the local underworld, which makes their already tense situation even more complicated. Ozark has received a lot of critical praise and has been nominated for a ton of awards, with both Jason Bateman and Julia Garner winning Emmys for their performances. Part 1 of the show's final season, Season 4, was released on Netflix on January 21, 2022, with Part 2 expected to arrive later in the year. – Remus Noronha
The Blacklist
Created by: Jon Bokenkamp
Cast: James Spader, Megan Boone, Diego Klattenhoff, Ryan Eggold, Parminder Nagra, Harry Lennix
This NBC crime procedural is one of the most popular shows in the genre. Starring the iconic James Spader as a former high-profile criminal, The Blacklist utilizes a number of classic tropes but the brilliant performances and intricate storylines are what make the series a genuinely engaging and intriguing watch. Raymond "Red" Reddington (James Spader) is a former U.S. Navy officer and now most-wanted criminal who shocks the FBI by voluntarily surrendering after decades on the run. After his arrest, Red reveals that he has compiled a list of criminals so dangerous and well-connected that law enforcement agencies don't even know they exist. He then offers to help uncover these shadowy criminals in exchange for immunity. On one condition: he will only work exclusively with FBI profiler Elizabeth "Liz" Keen (Megan Boone). While the show has more than its fair share of interesting cases, the question of Red's true identity and how he's connected to Liz is the real mystery that captures your attention as you go through the series. The Blacklist has eight seasons on Netflix with the ninth season currently airing on NBC. – Remus Noronha
Collateral
Created by: David Hare
Cast: Carey Mulligan, Billie Piper, Jeany Spark, Nathaniel Martelo-White, John Simm
The BBC-produced crime drama series Collateral is unique for a few reasons. One, it's a crime show featuring a female lead. Two, it's a close-ended four-hour story. And three, it actually delights in nuance instead of simply following a standard procedural format. Hailing from writer David Hare (The Hours) and director SJ Clarkson (Jessica Jones), the story follows Carey Mulligan as a confident detective in London who's tasked with investigating the murder of a pizza delivery man, who may be an immigrant or refugee. But a simple murder investiagtion reveals a web of intrigue, and a cadre of characers enter the frame that dimensionalize the entire story. Thematically, the story digs deep into issues of immigration and racial tensions in a post-Brexit England, but it is not without flashes of joy and humor, so in total it's an entertaining and meaty watch. – Adam Chitwood
Mindhunter
Created by: Joe Penhall
Cast: Jonathan Groff, Holt McCallany, Anna Torv, Hannah Gross, and Cotter Smith
A crime show executive produced by David Fincher should be reason enough to check out Mindhunter, but how about the fact that it's one of TV's best shows in recent memory. It's a bit like Silence of the Lambs in that it follows two FBI agents from the FBI's Behavioral Science Unit—Holden Ford (Jonathan Groff) and Bill Tench (Holt McCallany)—as they set out to interview imprisoned serial killers to see if they can understand why they did what they did, to help create a profile for the FBI to catch these kinds of killers. Set in the 1970s and inspired by true events, this is a crime show steeped in real history (Charlie Manson appears, among others) that offers a lot to chew on. – Adam Chitwood
Bodyguard
Creator: Jed Mecurio
Cast: Richard Madden, Keeley Hawes, Gina McKee, Sophie Rundle, and Paul Ready
The opening scene of the first episode of Bodyguard sinks its hooks in you, and the show never really lets up throughout its six-episode first season. The series premiered in the UK to staggering numbers before making its US debut on Netflix, and it follows a metropolitan police officer named David Budd (Richard Madden) who is tasked with guarding the life of Conservative Home Secretary Julia Montague (Keeley Hawes) in the midst of a political crisis—namely the debate over how to deal with terrorism. Budd's personal life and background are slowly revealed throughout the show, forcing the audience to consistently question whether he's a true hero or a potential villain. If you loved the first season of Homeland, this show is absolutely for you. – Adam Chitwood
Manhunt: Unabomber
Creator: Andrew Sodroski
Cast: Sam Worthington, Paul Bettany, Jeremy Bobb, Keisha Castle-Hughes, Chris Noth
Discovery took a chance on a rare scripted series for their network, but it paid off. Manhunt: Unabomber, chronicles the case of Ted Kaczynski, a.k.a. the Unabomber, who was active for almost two decades before the FBI caught him (mainly because, as the show notes, his brother turned him in). But Manhunt focuses on the inner workings of the FBI through the lens of Jim Fitzgerald (Sam Worthington), who created "forensic linguistics" as way to help catch criminals. Like in Netflix's Mindhunter, Fitz's path is filled with red-tape, and he has to fight the institution to better it (and satisfy his own obsession with the case). Paul Bettany is exceptional as Kaczynski, especially in the series' penultimate episode which focuses just on his character. And while Manhunt: Unabomber takes place in the 90s and includes some well-placed cultural touchstones, its retro setting is never satirical or over-the-top. The series is an earnest portrayal of a notorious case and the fascinating but deranged (at least one of them) men at the center of it. — Allison Keene
The People v O.J. Simpson: American Crime Story
Created by: Ryan Murphy
Cast: Sarah Paulson, Cuba Gooding Jr., Sterling K. Brown, Bruce Greenwood, Kennth Choi, Nathan Lane, David Schwimmer, Courtney B. Vance, and John Travolta
You may have heard the hype, but believe it: The People v. O.J. Simpson: American Crime Story is genuinely great. This Emmy-winning series takes a unique angle on this seminal moment in history by revealing new truths not just about the titular case, but the environment surrounding it. Issues of sexism, racism, and class played heavy roles in the outcome of the trial that everyone watched on television, and little-known facts changed the course of history forever. Over the course of 10 episodes this series charts the entire trial from start to finish, but by the end you'll come away feeling like you've experienced it for the first time. – Adam Chitwood
The Keepers
Directed by: Ryan White
The "docuseries" format has become somewhat en vogue as of late, with HBO's The Jinx and Netflix's Making a Murderer expanding the whodunit nature of an episode of Dateline into a six, seven, or eight-hour comprehensive look at a cold case or some crime with a hook. At first blush, Netflix's The Keepers (which landed on the streaming service on May 19th) looked to be in the same vein as these other watercooler series. The show promised to delve into the mysterious disappearance and murder of a nun, Sister Cathy Cesnik, in 1969, examining the circumstances, the many suspects, and other relevant aspects of the case. It's soon revealed that Cesnik may have uncovered horrendous sexual abuse that was going on at the all-girls Archbishop Keough High School. Specifically, women came forward with allegations that two priests at the school, most prominently Father Joseph Maskell, had been forcing female students to perform sex acts on him and others. The theory, then, was that Sister Cathy was determined to out and put a stop to the abuse, and was murdered in order to silence her.
Abuse has permanent, devastating effects on the victim, and The Keepers brings this to light in a striking, upsetting, but necessary manner. How can we expect to prevent this kind of abuse in the future if we follow suit and dismiss it as "not our problem" or something best handled quietly? No longer are these victims shamed as liars, or silenced with threats—The Keepers gives them the space to tell their story, and as intriguing as Sister Cathy's murder mystery is, it's merely an entry point to an emotional and poignant tale that ultimately paints Sister Cathy as a hero who died trying to do the right thing. — Adam Chitwood
Bloodline
Created By: Glenn Kessler, Todd A. Kessler, Daniel Zelman
Cast: Kyle Chandler, Ben Mendelsohn, Linda Cardellini, Norbert Leo Butz, Jacinda Barrett, Jamie McShane, Enrique Murciano, Sissy Spacek
One of the earlier origina series on Netflix, Bloodline is bloody great… until it's kinda not anymore. But the first season is absolutely worth a watch, as it follows a man named Danny Rayburn (Ben Mendelsohn) who returns to his family home in the Florida Keys and brings with him a cloud of intrigue, as past secrets are revealed and new problems raise the stakes for everyone involved. This is a rich, ensemble-driven family crime drama with some truly excellent performances, and despite the fact that it kind of petered out at the end, the setup remains tremendously engrossing. – Adam Chitwood
Making a Murderer
Created By: Laura Ricciardi and Moira Demos
Cast: Steven Avery
With true-crime documentaries like the Serial podcast and the HBO miniseries The Jinx capturing the attention of the public in new and innovative ways that reach beyond the tabloids in the checkout aisle, Netflix got onboard with this exploration of the various cases involving Steven Avery. Guilty or not, the legally beleaguered Wisconsin man quickly became a household name as couch-sitters consumed every facet of his life.
The ability to binge-watch the entire documentary led to some interesting outcomes, namely concentrated rage released over social media and through various petitions. Unlike Serial and The Jinx, which were released episodically in a more traditional format allowing frustrations to be metered out over time, Making a Murderer compounded the rage feels by the hour. While Avery's case is anything but open-and-shut, just as this documentary is anything but objective, it's worth a watch if only to stay up to date and engaged with the current social consciousness. — Dave Trumbore
The Innocent Man
Created by: Ross M. Dinerstein and Clay Tweel
The six-episode Netflix true crime series The Innocent Man is an interesting outlier in the genre. While true crime is currently all the rage in the TV world, it of course was first popular in book form, and in 2006, bestselling author John Grisham published his first and only non-fiction true crime book: The Innocent Man. So while the popularity of this particular story precedes the docuseries, but it doesn't make the show any less worthwhile. Indeed, Grisham is an on-camera participant in the six-episode investigation, which not only recounts a truly stranger-than-fiction tale of two murders and potentially false convictions in a small Oklahoma town, but also offers an insightful, wildly compelling, and infuriating account of the human cost when the U.S. justice system fails. – Adam Chitwood
The Assassination of Gianni Versace: American Crime Story
Created by: Ryan Murphy
Cast: Darren Criss, Edgar Ramirez, Penelope Cruz, Ricky Martin, Cody Fern, Finn Wittrock, Judith Light, and Jon Jon Briones
The Assassination of Gianni Versace: American Crime Story is not the show you think it is. The limited series was marketed as a show about glitz, glamour, and fame, but in reality, it's an American Psycho-esque portrait of a spree killer that hones in on issues relating to homophobia and self-hate. In 1997, fashion designer Gianni Versace (Edgar Ramirez) was shot dead by a man named Andrew Cunanan (Darren Criss). As it turns out this was only part of the story, and The Assassination of Gianni Versace unfolds backward in time (each episode is set before the events of the previous one) as it tracks Cunanan's other murders and delves into his personal life, trying to understand just what made this young man turn so violent in such a public way. It's every bit as engrossing and enlightening as People v. O.J. Simpson, and you've no doubt noticed it sweeping every TV awards ceremony over the last year. Now see for yourself. – Adam Chitwood
How to Get Away with Murder
Created By: Peter Nowalk
Starring: Viola Davis, Billy Brown, Alfred Enoch, Jack Falahee, Katie Findlay, Aja Naomi King, Matt McGorry, Karla Souza, Charlie Weber, and Liza Weil
How to Get Away with Murder is an absolutely delicious, soapy procedural crime series. Viola Davis stars as a morally ambiguous law professor who becomes entangled in a very messy murder mystery that extends to some of her most prized students. There are enough twists in this first season to last an entire series, and they are so much fun. Each successive season has a season-long criminal mystery at its core, and it's your job to try and figure it out. This is great when you want to watch something that doesn't take itself too seriously. —Adam Chitwood
Jessica Jones
Created By: Melissa Rosenberg
Cast: Krysten Ritter, Mike Colter, Rachael Taylor, David Tennant, Eka Darville, Carrie-Anne Moss, and Wil Travail
If you're looking for a crime show with a supernatural twist, check out Jessica Jones. This Marvel TV series stars Krysten Ritter as a private detective with superheroic strength who struggles to solve cases and work through her own trauma. The first season of this hard-boiled detective story is still the best, with Jessica tracking down her previous tormentor (played by David Tennant), but each season is dripping with intrigue, drama, and mystery to spare. – Adam Chitwood
KEEP READING: The 75 Best Netflix Shows and Original Series to Watch Right Now
Simon Pegg on the Popularity of the 'Ice Age' Movies, His Thoughts on 'The Mandalorian' and 'Book of Boba Fett,' and Future 'Star Trek' Movies
Pegg also talks about the way Christopher McQuarrie and Tom Cruise raise the stakes in 'Mission: Impossible' 7 and 8.
Read Next
About The Author
Source link