Movies
The Best Thrillers on Netflix Right Now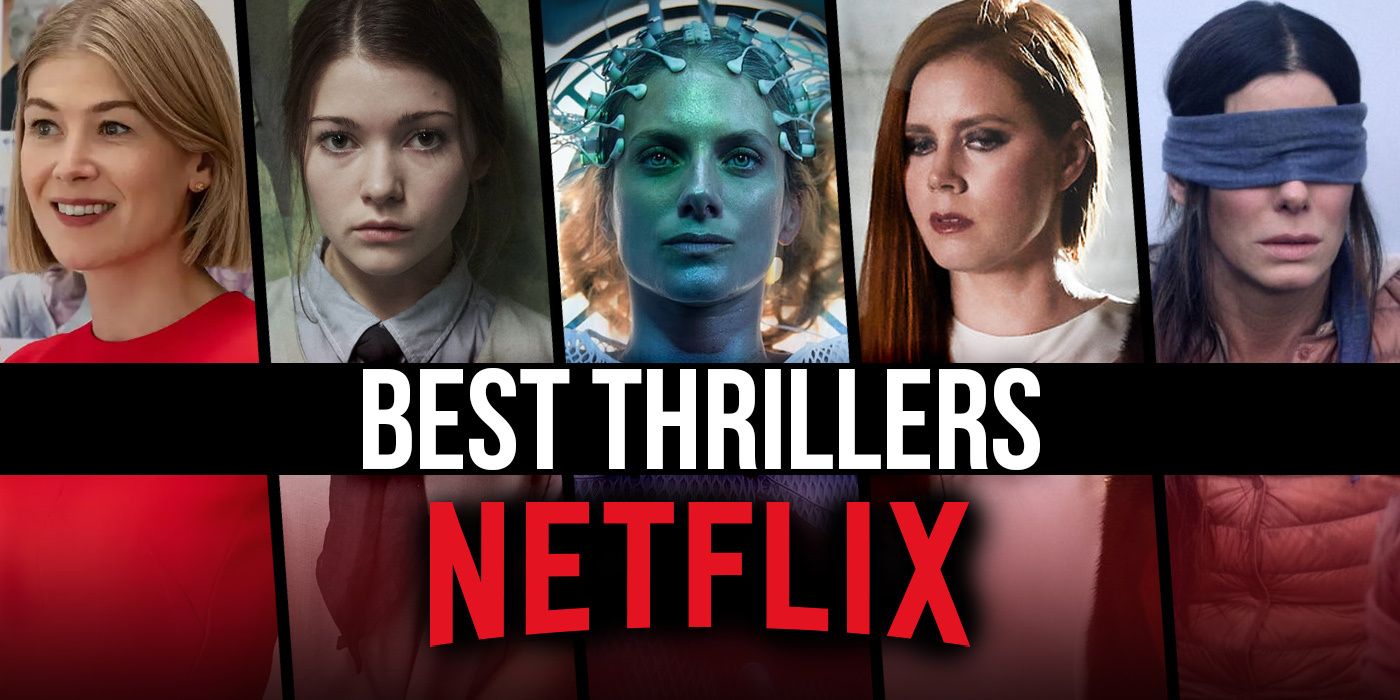 Sometimes you want Netflix to provide comfort food, and other times you want it to give you a jolt to the system. When it's the latter, you'll want a good thriller that may not go heavy on the blood and gore, but still manages to rattle you to your core. The streaming service has a solid selection of picks from the genre, but they've also got a lot of other movies labeled under "thriller" that wouldn't be the best use of your time, so we've got an updated list of the best thriller movies on Netflix to save you some scrolling.
If you need a bit of guidance on what thrillers you should check out, look at our recommendations below.
RELATED: The 85 Best Movies on Netflix Right Now
Editor's Note: This article was last updated on March 1.
Recently Added: Operation Mincemeat
Recently Removed: The Killing of a Sacred Deer
Director: John Madden
Writer: Michelle Ashford
Cast: Colin Firth, Kelly Macdonald, Matthew Macfadyen, Penelope Wilton, Johnny Flynn, and Jason Isaacs
Based on real-life events, Operation Mincemeat is a tense historical war drama about one of the most daring deceptions that won World War II. The movie stars Colin Firth and Matthew Macfadyen as two intelligence operatives who concoct a scheme to use a dead body to divert attention from the Allies' attack on Sicily. While perhaps not as gripping as some of the other entries on this list, Operation Mincemeat does involve a lot of twists and turns. Numerous obstacles, both foreseen and otherwise, continuously pop up throughout the planning and execution of the operation. But the spy drama elements are balanced with character moments and some interesting exploration of the relationships that form between the people involved in the scheme. – Remus Noronha
Director/Writer: J Blakeson
Cast: Rosamund Pike, Peter Dinklage, Eiza González, Chris Messina, Macon Blair, Alicia Witt, Damian Young, Isiah Whitlock Jr., and Dianne Wiest
This 2020 black comedy movie earned Rosamund Pike a Golden Globe for her role as a ruthless con artist who preys on the elderly. I Care a Lot follows the story of Marla Grayson (Pike), a court-appointed guardian who uses her legal hold over her victims to take control of their assets. Her sordid scam hits a snag when her latest mark, a woman who calls herself Jennifer Peterson (Dianne Wiest) turns out to be connected to a dangerous gangster, played by the iconic Peter Dinklage. With dark humor, biting satire, and a wild story, I Care a Lot should definitely be on every thriller fan's watchlist. – Remus Noronha
Director/Writer: Danishka Esterhazy
Cast: Katie Douglas, Celina Martin, Peter Outerbridge, Sara Canning
Fans of The Handmaid's Tale should find plenty to love in this smart, slick indie thriller. Tackling similar themes through a distinct lens, Level 16 follows the teenage girls at The Vestalis Academy, a dreary and seemingly inescapable boarding school where they're taught the so-called virtues of femininity: obedience, cleanliness, patience, and humility. As the extremist ideology is violently drilled into their minds day-in and day-out, the young women near the end of their studies begin to suspect something sinister is waiting on the other side of their graduation. Relentlessly tense with flourishes of sci-fi and outright horror along the way, Level 16 embraces the hallmarks of the dystopian thriller and reinvents them into an all-new nightmare. – Haleigh Foutch
Director: Galder Gaztelu-Urrutia
Writers: David Desola and Pedro Rivero
Cast: Iván Massagué, Antonia San Juan, Zorion Eguileor, Emilio Buale, Alexandra Masangkay
A fabulous high-concept thriller that toes the line between genres, The Platform is set within the confines of an impossibly tall building where residents either feast or famine depending on which floor they're on. Every day, a massive table is stuffed with a banquet of food and slowly dropped through the building, one floor to the next, with the folks on top thriving in gluttony while those far below them starve to death – but there's a catch, every once in a while, the inhabitants are gassed, reshuffled, and they never know which floor they're going to wake up on next. It's a bit of a long set-up, but a tremendously effective vehicle, both for the social themes it explores and the non-stop suspense of investigating the beak world between these cramped walls. – Haleigh Foutch
Director: Alexandre Aja
Writer: Christie LeBlanc
Cast: Mélanie Laurent, Mathieu Amalric, Malik Zidi
From High Tension to The Hills Have Eyes to Crawl, Alexandre Aja is responsible for some of the most pulse-pounding, skin-crawling, relentlessly intense movies of the 21st Century. With his 2021 Netflix original Oxygen, the filmmaker steps (slightly) back from the horror and leans all the way in on the thrills, following a woman (Mélanie Laurent) who wakes up in a cryogenic pod with no memory of who she is, how she got there, or – her biggest problem – what to do about her rapidly dwindling supply of oxygen. Aja doesn't fully leave behind his horror touch and the flourishes of body horror only serve to further ramp up your adrenaline. Oxygen doesn't always land its twists before you figure them out, but when a filmmaker is as attuned to dialing up the tension as Aja is, your stomach's gonna wind up in your throat whether you see the next drop in the track coming or not. – Haleigh Foutch
Director/Writer: Tom Ford
Cast: Amy Adams, Jake Gyllenhaal, Michael Shannon, Aaron Taylor-Johnson, Isla Fisher, Armie Hammer, Laura Linney, Andrea Riseborough, and Michael Sheen
If you're in the mood for an overlooked thriller with a tremendous cast, twisty plot, and gorgeous aesthetic, check out Nocturnal Animals. The film is the second directorial effort from Tom Ford after the critically acclaimed A Single Man and follows an art gallery owner (Amy Adams) as she reads the new novel written by her first husband (Jake Gyllenhaal). As she reads the novel, the events inside play out on the screen and you being to connect the dots between this supposedly fictional story and the gallery owner's real-life – and the reason her marriage fractured in the first place. – Adam Chitwood
Director: Jen McGowan
Writer: Julie Lipson
Cast: Hermione Corfield, Jay Paulson, Sean O'Bryan, Micah Hauptman, Daniel R. Hill
If you're looking for a straight-up, no-nonsense survival thriller, Rust Creek should get the job done. Hermione Corfield stars as Sawyer, a young woman who hits the road for a job interview, only to get lost in the woods and wind up on the run from a pair of attackers. While that "lost and on the run from local yokels" first act feels pretty familiar, Rust Creek takes a refreshing, engrossing turn after Sawyer passes out in the woods and winds up captive to an entirely unexpected, less familiar type of character. A drug dealer who happens to be cousins and business partners with her assailants, Lowell (Jay Paulson) ultimately means her no harm, and the two strike up an unexpected bond while they try to survive their shared predicament. Like I said, the first act is pretty familiar, but the strange dynamic that unfolds between Sawyer and Lowell gives this film a quiet nuance that makes it stand out from the plentiful pack of understated rural Americana thrillers. – Haleigh Foutch
Director: Mike Flanagan
Writers: Mike Flanagan and Jeff Howard
Cast: Carla Gugino, Bruce Greenwood, Kate Siegel, Henry Thomas
In novella form, Gerald's Game makes for one of Stephen‌ King's queasiest, most relentlessly gripping works. It's the very definition of a page-turner, keeping you glued to the next word, following one woman's seemingly impossible fight to survive a very slow, silent death while tending to the trauma she's buried deep inside herself. It's also entirely first-person, taking place inside the mind of a woman left handcuffed to the bed in a remote cabin after her husband dies of a heart attack in the middle of a tryst. Understandably, it was long thought unfilmable, but Mike Flanagan's tender, terrifying 2017 adaptation proved the naysayers wrong with a heartfelt but oh-so-horrifying film that's faithful to King's work in all the right ways. Gore-phobes be warned though! At its core, Gerald's Game is a lovely film about surviving trauma, but it is also a brutal survival film and one climactic scene (which was infamously hard to read, let alone watch) wins the gold star for the most vocal audience freak-out I've ever heard in a movie theater. – Haleigh Foutch
Directors: Josh Safdie and Benny Safdie
Writers: Josh Safdie, Benny Safdie, and Ronald Bronstein
Cast: Adam Sandler, Kevin Garnett, Julia Fox, Lakeith Stanfield, Idina Menzel, and Eric Bogosian
If you don't mind a thriller that will give you the most anxiety as its central character keeps making bad decision after bad decision, check out the excellent Uncut Gems. Released in 2019, the film stars Adam Sandler as a Jewish jeweler and gambling addict in New York City's Diamond District who much track down an expensive gem he purchased in order to pay off his debts. As captured by directors Josh Safdie and Benny Safide, the film covers Sandler's journey almost down to the minute, as the stakes grow more serious with each passing hour. Sandler gives one of the best performances of his career here, but be forewarned, this one is intense. – Adam Chitwood
Writers/Directors: Zach Lipovsky, Adam B. Stein
Cast: Emile Hirsch, Bruce Dern, Grace Park, Amanda Crew, Lexy Kolker
I'm going to save one of the major things that wows me about Zach Lipovsky and Adam B. Stein's Freaks for the very end of this blurb because I would suggest jumping into this story knowing as little as possible. But, do know that this is one of the best character-driven sci-fi thrillers of 2019. The movie features a show-stopping performance from Lexy Kolker as seven-year-old Chloe. She's spent her entire life completely isolated from the world inside her home with her father, Henry (Emile Hirsch). He's always told her that the outside world is a dangerous place, but the older Chloe gets, the more tempted she becomes to venture out – and then she finally does. Okay, are you ready for that semi-spoilery detail to further emphasize how wildly impressive this film is? Here it goes; I love a good big-budget superhero film as much as anyone, but if you're looking to see what can be accomplished with a limited budget in the genre, Freaks is an absolute must-see. It's one of those movies that'll have you leaning in more and more with its early curiosities before absolutely exploding with creativity as Chloe discovers more and more about her reality. – Perri Nemiroff
Director/Writer: Dan Gilroy
Cast: Jake Gyllenhaal, Rene Russo, Zawe Ashton, Tom Sturridge, Toni Collette, Natalia Dyer, Daveed Diggs, Billy Magnussen, and John Malkovich
If you liked Nightcrawler, you should check out writer/director Dan Gilroy's kind of insane Netflix movie Velvet Buzzsaw. One part thriller and one part slasher, the movie is set in the art world and revolves around a cache of art that is found to have been created by a mysterious and deceased artist. Once it's put on display, people begin dying in grisly ways. The film has a lot of dark humor to it, and Jake Gyllenhaal gives a really colorful performance as Gilroy goes for the jugular as far as the art world is concerned. – Adam Chitwood
Director: Susanne Bier
Writer: Eric Heisserer
Cast: Sandra Bullock, Trevante Rhodes, John Malkovich, Jacki Weaver, Danielle Macdonald, Rosa Salazar, Machine Gun Kelley, Lil Rel Howery, Sarah Paulson
Netflix squeezed in one last streaming sensation before the end of 2018 with Bird Box, the star-studded and meme-friendly new thriller starring Sandra Bullock as a mother trying to protect her children in an apocalyptic world Set across two timelines, Bird Box follows a group of survivors through the end of the world after a mysterious force starts causing people to kill themselves on sight. Naturally, that sets up director Susanne Bier for plenty of thrills and gags based on the anxiety of trying to survive without sight (some more believable than others) and she uses the opportunity for all its worth, staging some pulse-pounding set-pieces in the fight for survival. Bullock carries Bird Box with a commanding performance that reminds you why she's an old-school movie star and she's matched by Trevante Rodes, who sets his charm level to "dangerously high" and John Malkovich, who leans into his gift for playing smart men of a nasty disposition that you just can't help but love/hate. — Haleigh Foutch
Writer/Director: Gareth Evans
Cast: Dan Stevens, Lucy Boynton, Michael Sheen, Mark Lewis Jones, Kristine Froseth, Sharon Margan
Brace yourself for some bloody, brutal thrills with Apostle, the horror-thriller from The Raid director Gareth Evans, who turns his attentions from breathless action to stomach-churning tension. Legion star Dan Stevens delivers another swing-for-the-fences performance as a man who infiltrates a rural cult that's taken his sister hostage and discovers some deeply disturbing truths behind the utopian facade. Evans' slow-burn pays off with a mighty explosion of viscera, and a strong stomach is required for the blood-soaked finale, which veers from suspense to full-on carnage. — Haleigh Foutch
Writer: Isa Mazzei
Director: Daniel Goldhaber
Cast: Madeline Brewer, Patch Darragh, Samantha Robinson, Melora Walters, Imani Hakim, Michael Dempsey
A tense thriller about ambition, identity, and survival in the internet age, Cam stars Madeline Brewer as Alice, a successful cam girl intent on climbing to the top of the ranks — an ambition that's going rather well until she logs on one day to find she's been replaced by a cheerful doppelganger who's taken her face and her career. From there, Cam follows Alice down a surreal rabbit hole as she tries to discover who's behind her new web clone and how to reclaim her life, building a growing sense of unease and sick helplessness as Alice's reality drops out from under her. Screenwriter Isa Mazzei and director Daniel Goldhaber are a dynamite creative team, who bring a refreshing sex-positive, non-exploitative approach to the often untouched subject matter while staging a dazzling and disorienting plummet through the pitfalls of internet identity and the intensity of ambitious careerism. — Haleigh Foutch
Director: Cate Shortland
Writer: Shaun Grant
Cast: Teresa Palmer, Max Riemelt,
Clare Havel (Teresa Palmer) is a young Australian photojournalist on vacation in Berlin. She's living the dream. Taking in the sights, falling in love with a new city, and just maybe falling in love with a handsome local man, Andi (Max Riemelt), who strikes up a passionate romance with her. But after she goes back to his place for a romantic night, she wakes up to the next morning to realize he's locked her in his apartment on his way to work, and with a slow dawning terror, she understands that he never intends to let her out. This is how we enter Berlin Syndrome, Cate Shortland's taut thriller, which takes us through every step of their courtship and Clare's subsequent imprisonment in a slow burn portrait of psychological terror and the human capacity for survival.
Palmer is excellent in the role of a smart woman in captivity, who discovers new depths of strength with each passing day, and Shaun Grant's script gives her great material to work with, never treating Clare like a fool. She makes clever, assertive choices the whole way through, a fact that incites you to root for her and drastically notches up the tension at the same time. Her instinct for survival is met by Andi's capacity for cruelty, unfolding a bit each day as Clare realizes how dire her predicament truly is. Consummately tense and emotionally challenging, Berlin Syndrome kicks up a slow boil battle of the wits that constantly notches up the dread and pays off in a breathless finale. — Haleigh Foutch
Director: Patrick Bice
Writers: Mark Duplass and Patrick Bice
Cast: Mark Duplass, Patrick Bice
Who knew Mark Duplass could be so damn creepy? Duplass worked with director, co-writer and co-star Patrick Bice to explore the psyche of "Josef" a mysterious and deeply unsettling man whose need for intimacy spurs him to post a Craigslist ad in search of a filmmaker to chronicle his strange story. There's just one problem — he may or may not be a killer. Bice stars as Aaron, the young filmmaker who lands the job and once he sets foot on Josef's turf, Aaron is immersed in an uncomfortable and unusual situation that always threatens to go off the rails. As Josef, Duplass channels the charming, disarming and freaky as hell disposition of corporate snakes and thriving sociopaths. Is he a killer or just a weirdo you can't say no to? Bice and Duplass have fun playing with audience expectations all the way up to the finale payoff — a fantastic, earned moment that cements the tension for long after the film. And here's even more good news: If Creep gives you the thrills you're looking for, the sequel is just as good.– Haleigh Foutch
Writer/Director: Jim Mickle
Cast: Boyd Holbrook, Cleopatra Coleman, Michael C. Hall, Rachel Keller
Jim Mickle's sci-fi crime thriller mixes up time travel, Zodiac-like levels of obsessive detective work, and a dash of politics with this underseen Netflix original. Boyd Holbrook stars as a police officer who stumbles into horrendous series of crimes and winds up locked in the cat-and-mouse change that will define decades of his life… and mix him up in some twisted, tragic time-travel saga that could save the future of the country. An obsessive crime drama that mostly keeps it lowkey despite the extreme stakes, In the Shadow of the Moon has an occasional unfortunate habit of thinking it's more ahead of the audience than it really is, but its still an intriguing, engrossing, and damn good-looking time-travel saga that's well worth a watch. — Haleigh Foutch
'Top Gun: Maverick': Jon Hamm, Charles Parnell and Bashir Salahuddin on the New Sony Camera Used on Sequel
Read Next
Source link